Process Management & Application Tracking
At PoliceApp, we know that law enforcement recruitment is time-consuming, complex and costly, so our team of law enforcement professionals and technology experts designed a solution.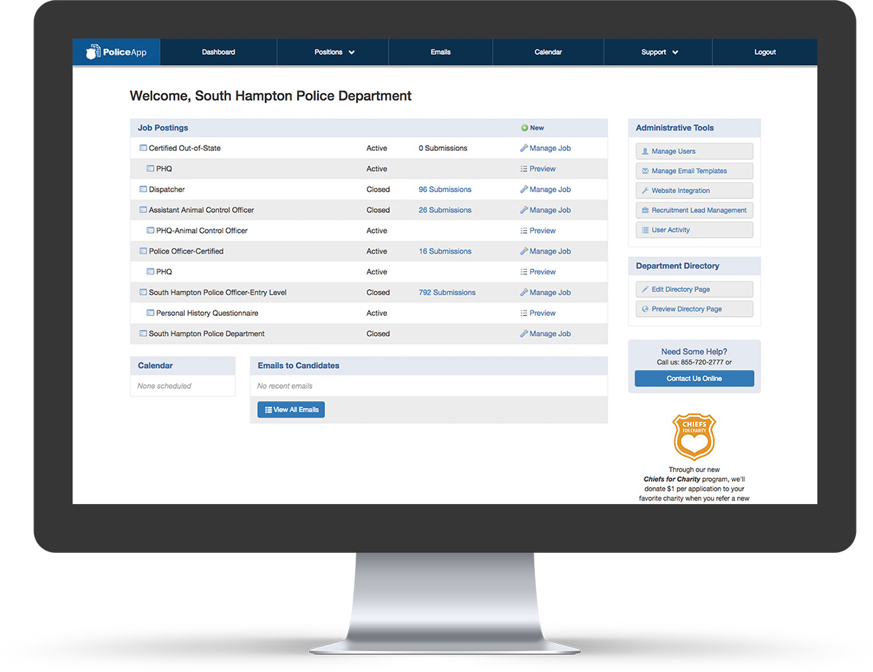 PoliceApp reduces redundancies and frustration with the recruiting process and simplifies communication between applicants and departments to help you be more organized, save time, increase efficiency, and improve candidate communication and engagement.
PoliceApp enables you to:
Organize & streamline the recruitment process
Reduce paperwork, data entry, and clerical tasks
Maintain process integrity
Eliminate bottlenecks in the hiring process
Keep all staff members on same page
Easily transition between process stages and personnel
Bridge the gap between HR and your department
Shorten the hiring cycle
Keep applicants engaged
Manage compliance & accreditation
Customize the process to accommodate your unique hiring needs
Reduce Paperwork: With PoliceApp, your department can say goodbye to stacks of files and tedious paperwork. You can view your candidate pool and candidate files online, and easily move groups of candidates through phases, send emails, schedule exams and interviews, and change candidate status. Candidate records are maintained and archived in a secure online environment with easy-to-use search tools.
Improve Communications: With PoliceApp, you can communicate and schedule interviews or exams with your applicants quickly and efficiently, and receive real-time confirmation when emails have been viewed.
Save Time: No more spending hours at your desk going through documents or on the phone scheduling appointments. PoliceApp lets you review applicants' basic information, test scores, and progress at a glance, and quickly schedule candidates for written exams, physical agility tests, and other interviews.